What is the estimated delivery time for international orders?
The USPS lists "6-10 business days" as the ESTIMATED time until delivery for Priority International Service. Delivery time for First-Class International is listed as "delivery varies by destination." Actual shipping time varies by country, region, and season. You can expect service to be slower during the holiday season (mid-November through mid-January) due to dramatic increases in mail volume. Please note that USPS.com updates its order tracking at specific points and not after the package has left the US - any updates after this depend on your country (see below). The USPS tracking number can often be used for package identification with your country's mail service, but generally not through online tracking. Please contact your postal service directly for information.
There is a lot of confusion over the US-entries that are viewable with online tracking. The USPS does not scan every handling point. The key points are:
"Electronic shipping info received" -- Package is shipped, customer shippping confirmation is emailed, and sale is completed.
"Acceptance" -- verification by the USPS that they have custody of the package.
Intermediate "Processed at/arrived at/depart Sort Facilities" notes are made as the package moves between the shipment point and end of US processing. These may be entirely absent when packages are swiftly moved.
"Processed through Sort Facility" AND Location = ISC CHIGAGO IL" -- This status shows the time and location that package left the US for most types of mail. An alternate site is Jamaica, NY, used for First Class International Packages.
Once your package has left the US, these updates depend entirely on your country's mail service -- often they are not provided until *after* the package is delivered. International mail is out of the US within days (4 or less unless weather interferes). Any package with a labeling or postage problem is returned, not held. This means that typical records during package transit will show current activity up to the point they leave the US.
Here is a typical tracking record at the USPS.com site: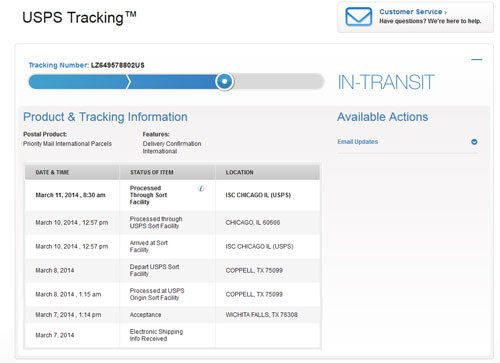 [CLICK IMAGE TO ENLARGE]

Here is another record. Note the long gap between US and NZ scans: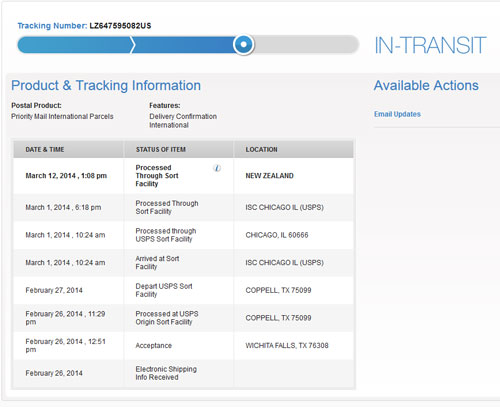 [CLICK IMAGE TO ENLARGE]

What next? This depends on your country's Customs Office and local delivery. Customs may delay, hold, or inspect mail. They may directly assess taxes and other fees. Your in-country mail delivery service may collect for the Customs office or have other requirements before your package can be delivered. Packages are often held by local post offices.
Find out ahead of time whether or not the item you are importing will be taxed. Most countries set this by a threshold value level AND type of item (books are rarely taxed; other product types such as t-shirts often are, and this generally depends on total value of the shipment; some countries also tax shipping)
If there are taxes/fees, find out how notification and processing for any taxes due will occur. Your package might be held up because you have missed a notice you were not expecting.
Contact your local postman/post office to check for held packages, get an idea of how long your country's Customs processing might take, and make inquiries. *IF* your country uses the USPS tracking number in their system, your postman may be able to locate the package within the Customs and/or local mail service and let you know when to expect it.